Customer Communication Management Workflow: Key Pre-Production Steps
The early steps of the CCM production workflow prepare data and page templates for paper and electronic output. These first steps, complicated and challenging as they may be, are the heart of CCM production.
We identify and provide insight into the complex issues they deal with, some of which concern:


Identifying and understanding the input data that becomes a document's variable content, most often numeric data but can also be text and graphic data

Initiating secure data transfers from internal information systems to the platform where the data is processed

Standardizing the input data, meeting delivery channel requirements, and recording suppressions the client may want removed

Integrating input data with standing page templates according to programmed business rules

Post-processing tasks that provide confirmation and verification so that the content is properly composed and sent to the output provider

Creating output files that can be used by a print engine, email, SMS text deployment system, or online viewing applications

Distributing the file stream to the appropriate production entity in a timely and secure manner

Ensuring proper post-distribution management, like providing electronic archive files and information for verification requirements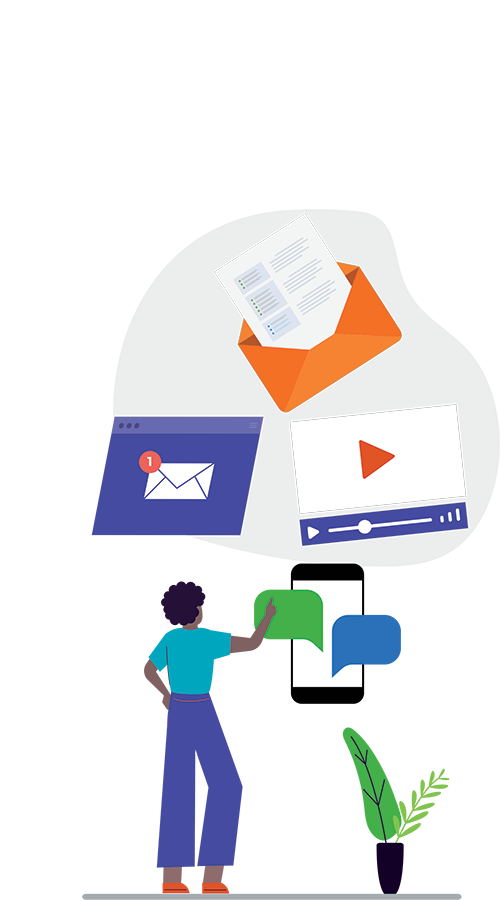 The Complex Input and Output of CCM Production
A key requirement of modern CCM production is the ability to convert a wide variety of input data into an equally varied series of document outputs.
Nearly all companies with large CCM programs draw their variable input data from multiple information systems. Some of the systems are legacy, constructed over several years; some are more recently installed. Additionally, in some cases, the input is not "raw" data but fully pre-composed pages from an internal page composition engine. This variety of systems and data types, by nature, means different file types and format output, all of which must be standardized into a single program application.
While the input is driven by the complexities of internal information systems, the output is determined by consumer empowerment and preference.
The rise of digital consumer products, mobile and high-speed internet, social networks, as well as greater digital savvy have placed consumers in the strongest position ever when dealings with banks, insurance providers, investment companies, and other similar verticals.
As such, the CCM output from these standardized files must be capable of fulfilling these changing consumer preferences, often distributing the same communication in two or more channels. A CCM platform must successfully manage this unique crossroad between input and output—all while remaining compliant amidst the ever-increasing regulatory demands for accountability—to be considered a best-in-show performer.

The Why and What of a CCM Platform
What is a CCM Platform?
A CCM platform combines propriety programming, software products, real-time information, and a user interface built specifically to handle the early stages of CCM production. Its broad capabilities allow the early steps of production to be fully automated, without which aggressive deadlines and accuracy requirements could not be met. It can:
Integrate software solutions that process input data, composes variable content pages, and outputs a file to mail, email, and SMS text
Incorporate all pre-processing steps into a seamless uninterrupted effort
Keep the workflow moving and monitor how the tasks are proceeding via a dashboard
Offer online self-service engagement with business rule programming and template content at any time, from any place
Provide alerts and comprehensive incident reports when there are problems for verification and auditing purposes
Create files of each document in their original form for archiving and future reference

Why a Platform Is Needed
As we stated earlier, CCM production requires speed, accuracy, 100% fulfillment, and post-production accountability. To meet these requirements, the pre-production process must be highly automated, precisely programmed, and amenable to quick human intervention when needed. If they do not reach these high standards, none of the other requirements of customer communication management could possibly be met.
Additionally, there are complex challenges when dealing with a wide variety of data input formats and consumer output preferences that must be successfully managed. The best way to ensure success confronting these many challenges is using a top-tier platform designed specifically for CCM pre-production processing.

Who Needs a CCM Platform?
With the dramatic rise of electronic channel delivery and the continued demand for print, it's critical a platform seamlessly manages every output option. This includes adhering to individual requirements and document composition needs of each delivery channel. A successful platform has the capability to compose output for any channel(s) at the same scale and speed to meet quick 24–48-hour turn-times.
Companies with medium-to-large CCM programs need a CCM platform to run the programs efficiently, cost-favorably, and in compliance with regulatory agencies and consumer expectations. Typically, such companies have a complex network of information systems with data in need of standardization, as well as preference centers capturing the individual channel preferences of each customer. These companies often have greater compliance and data security liability concerns, wherein a proven platform greatly mitigates that risk.


NSite™: the Best-in-Show Platform
Given the broad and rigorous requirements for a successful CCM platform, it's no surprise that there are few comprehensive options available in the marketplace.
We'd like to call out one of the top industry leaders, Neps, and specifically their award-winning CCM platform, NSite™. Based in Salem, NH, Neps has been a CCM industry leader of document management solutions for over thirty years and is backed by Taylor Corporation, one of the largest communication companies in the United States. In 2021, they were given the Application of the Year Award for their NSite™ platform by Xplor International, a leading industry group supporting CCM causes. Their solutions are used by some of the most recognizable insurance and financial services companies in the United States.
In addition to meeting every feature and performance criteria discussed in this article, NSite™ is supported by additional solutions that are closely aligned with other CCM needs, such as document consolidation and recommended design/copy improvements. t combines multiple management capabilities within a single solution, as superior platforms do. More importantly, it places those capabilities within your hands to help you manage your CCM programs as best suits your employees and business.

If you would like to learn more about CCM platforms and strategies, Neps would be happy to give you a full demonstration. Our staff of solution architects, developers, communication experts, analysts, and service professionals can provide an excellent overview of what a top-tier integrated services platform does and how we can help support your unique business communication needs.

Enhance Your Customer Communications Strategy