---
Customer Service Models
With the right platform, clients no longer need to wait for or depend upon their service provider to manage the production workflow. When clients have the control they need to meet their customer and compliance obligations, it greatly improves speed and efficiency—something both the client and their customer can appreciate.
The recent digital transformation of the CCM industry also lessens the need for customer service within the production process. The ability to automate the production workflow, particularly in the pre-production stage, greatly reduces manual intervention. The work runs fine by itself; if there is a problem, the provider alerts you.
However, no amount of programming, automation, or eventual A.I. solutions will ever completely remove the need for human support. CCM solutions are all about change—from government agencies with documents revisions, from empowered consumers demanding new ways to manage their information, and the ever-evolving changes in branding and messaging from your company's marketing department. These changes are inherently human; there will always be a demand, naturally, for some level of human support to manage them.
The challenge for CCM service providers lies in finding the right balance of support between automated and human approaches. A service provider, on the one hand, strives to be as lean as possible to constantly provide reasonable pricing for its clients. On the other, it needs to be responsive to client needs, which are too complex and varying to perfectly fit into the "leanest" solutions.
Between the automated leaps that keep us competitive and the human touch that defines us as communicators, striking the right balance helps determine the most successful service providers in the digital age.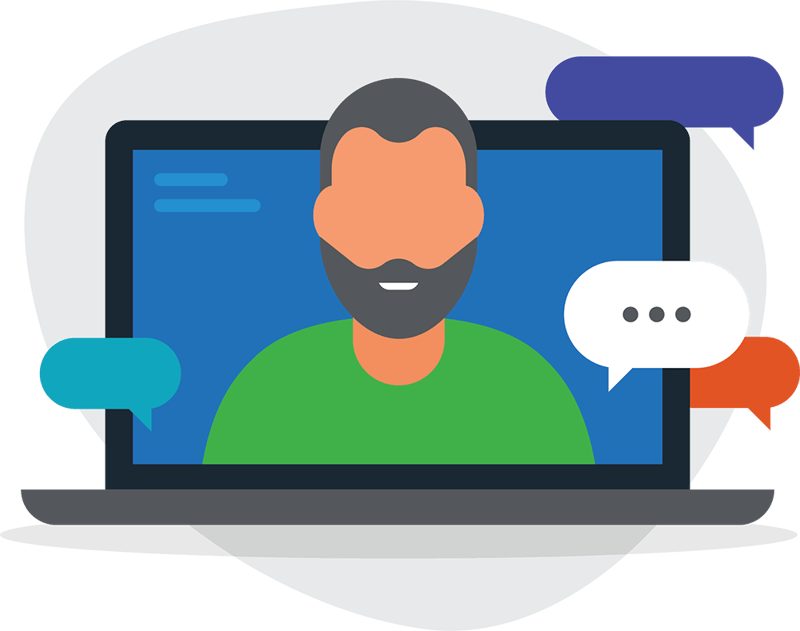 A Service Model that Reflects Strategic Support Needs
Today's CCM production workflow finds most of its inherent complexity within the pre-production steps—data processing, page composition, proof approval, etc.—before a single word is printed. A lot of customer service solutions, consequently, focus on the quality of a platform itself and its ability to handle large quantities of "grunt" groundwork.
This requires a service support staff that possesses not only organizational, technical, and communication skills. When clients need assistance, they are often not in a position to wait for answers; the service support staff must be able to address and at times triage platform issues without relying on technical engineers and developers.

A Service Model that Reflects Ongoing Change
However, as valuable as they are, service skills related to technical and operational support are very rarely enough to get the job done. Change comes quickly to CCM communications, especially as services continue to digitally transition. A successful service model must also think ahead, well past tomorrow, to where the future may take it. Relationship managers, experts who know what CCM trends lie ahead and what potential solutions are available to leverage them, are the secret ingredient to enduring businesses.
As part of its strategic planning responsibility, a top-tier CCM provider has a road map for its platform and other technical services with supporting, bi-directional efforts. Any complete road map, any good conversation, is filled with two-way streets: while there should be planned paths ahead for the provider to educate its clients forward, there should also exist ways for the client to inform and influence direction.


A Service Model that Reflects How Technology Works
The current industry standard is to be available and dependable for the client. However, because pre-production services have become heavily dependent on technology and round-the-clock accessibility, help doesn't necessarily follow a 9-to-5 schedule. Technology keeps the hours it wants to keep—that can be evenings, weekends, and holidays in addition to the 9-to-5. The best CCM leaders understand these demands and will readily provide off-hour assistance as the client needs, regardless of when and where.


A Service Model that Reflects How You Work
The current best practice in account management is to assign the client a dedicated service advocate who stays with the account as it evolves over the years. Their advocate learns the client's culture, specific work customs and requirements, and what it is comfortable with. Armed with this deep understanding, advocates are better able to help them devise a strategy that works and can be well-integrated with current solutions. This is particularly crucial in regard to long-term planning and strategic support.


Conclusion
The top-tier service model we've outlined in this article—one that is built on dependability, trust, and innovative thinking—is the model that Neps has continually developed for the CCM industry. Built upon client feedback and willingness to share ownership of the model, Neps has been a pioneer within the CCM industry for a long time, and we are experts in our cutting-edge technology solutions like NSite™ and TransForm™.
In client surveys, we have heard clients tell us time and time again that it, "feels like you are part of our company." We dedicate personnel to an account so they can take the time to really understand a company and become a functioning part of it. With that kind of one-on-one assiduity, you can see why it can seem like they are part of your company.
We are very proud of what we've accomplished with our clients through our collaborations and strategic relationships. If the reader has any feedback they'd like to share with us about service in the CCM industry, please let us know. We love listening to companies with big ideas on how our industry can best serve its clients.